Jazz Quartet at the Hub – The Paul Hill Band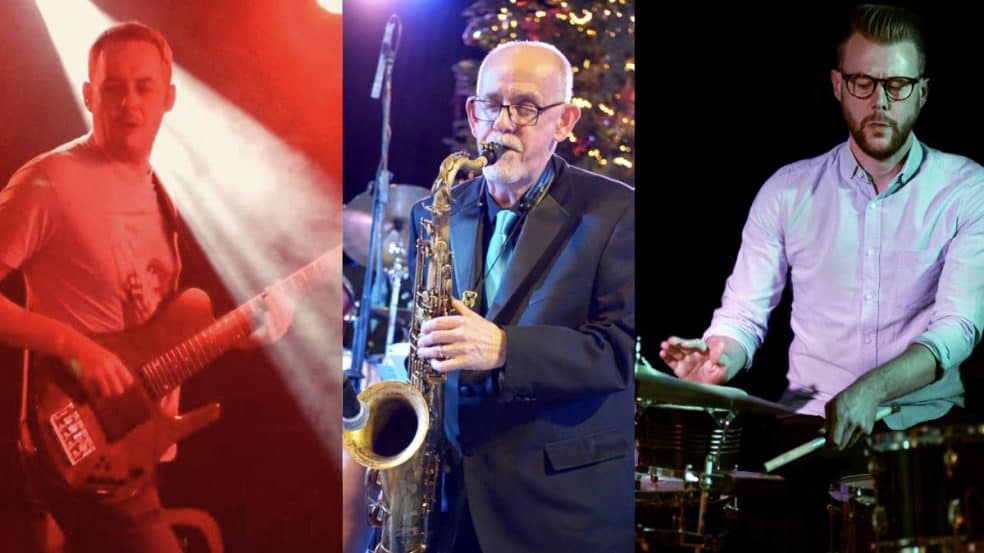 Jazz At Sheringham Little Theatre Has Returned
My jazz quartet was the first band that needed to be cancelled at Sheringham Theatre due to the covid pandemic forcing everybody into lockdown. 'Jazz At The Hub' is starting again in 2022 and I am honoured to be asked back with my quartet as the first band to perform.
The first gig takes place on Sunday 30th January 2022. If you would like to attend, please book in advance as my previous shows have sold out. I would hate for anybody to turn up and there are no tickets available.
We are very much looking forward to playing at Sheringham Little Theatre once again. I hope you can join us for a fun evening of jazz.
Jazz musicians often find themselves playing with many different musicians. The musicians playing in my quartet at the Hub gig are awesome jazz musicians and good friends of mine with whom I regularly play.
A long-time collaborator with Paul, Andy Doyle possesses a broad arsenal and transmits a lyrical musical persona amid hyper-mode, single note licks and complex, jazz guitar-like chord voicings. Moreover, the bassist's supersonic bass riffs are a wonder to behold, he's a formidable player who communicates warmth, sensitivity, and an enviable technique.
After achieving his music degree and studying with the likes of Troy Miller (Mark Ronson, Amy Winehouse), Trevor Tomkins, Craig Blundell and Ash Soan (Adele, Cee Lo Green, Robbie Williams), Alex has become an in-demand drummer for many artists in a variety of genres. His vast performance experience includes TV work, European & UK tours, numerous albums and session recordings, live radio broadcasts and music videos, along with appearances in theatres, clubs, festivals, and on various stages all over the UK.
Martin Eaton (Tenor Saxophone)
Martin has been playing the saxophone for 50 years and gigging regularly for 49 of them. Leaving school at 16 and spending the next 5 years playing, first in The Junior Musicians Troop of the Royal Artillery, then the Royal Artillery Band Woolwich. This provided him with a grounding in playing many varying types of music which stood him in good stead for his future career.
After leaving the RA in 1979 he embarked on a freelance career playing gigs all over Britain at any venue from village halls to holiday camps before settling in Norwich where he quickly established a reputation for jazz playing and became a regular at The Norwich Jazz Club.
He now plays tenor sax for The Jonathan Wyatt Big Band, Back To Blue Note and The Pinewood Saxophone Quartet plus various other line-ups including vocalising if required.
About Jazz At The Hub
By Organiser Vic Brown
Sheringham Little Theatre is a much-loved community arts centre. It presents year-round entertainment for the family that includes drama, comedy, movies, music, dance, exhibitions and a repertory season. The director is Debbie Thompson.
The Hub is the theatre's café/bar. Apart from being a facility for people in the community, tourists and visitors, The Hub also hosts events of its own, one of which is a monthly jazz concert that features musicians, predominantly, from within the Eastern Region.
Occasionally the venue is able to find the funds to invite artists of international repute. An example is when Alan Barnes (saxophones and woodwind) and one of the country's top jazz musicians played in October 2016 and The Hub transferred to the auditorium.
The Hub has also hosted Ray Simmons who, on a number of occasions, has presented something different from "the history of jazz", "the blues" and "be-bop". Ray was principal trumpet with the Royal Philharmonic Orchestra in London for nearly twenty years and was also associated with the Bournemouth Orchestra, The Royal Opera House and Stavanger Orchestra. He is an instrumental professor and established session player and is one of those musicians able to successfully span musical genres.
The Hub is also proud to have given the opportunity to young musicians from the Norwich Student Jazz Orchestra when they were establishing themselves. People such as Tom Harris (piano), Lewis Wight (vibes) and Freddie Gavita (trumpet). All of whom came under the pupillage and mentorship of local jazz supremo David Amis who has also presented bands at the Hub.
The music at The Hub predominantly reflects jazz standards and it is the style of the bands and their programmes that makes things different.
Jazz at the Hub is organised by Jean and Vic Brown. They are members of the team or volunteers at the venue and are motivated by their love of jazz and their drive to keep jazz live.
Would You Like Lots Of Free Learning Resources?
I have recently been uploading many guitar lick videos on YouTube #Shorts, Instagram Reels and to TikTok. In the short guitar lick vertical videos, I play licks and ideas in all styles (lots of jazz!) at full tempo and half speed. Guitar tablature is available for all the licks for free.
These short videos enable me to create many new musical ideas for my own playing and give lots of free guitar lesson material to other guitarists.
The guitar tablature is made available as the videos are released (currently three per week). Here is this week's blog post as an example:
I hope you enjoy the free guitar licks and resources. Please subscribe to my YouTube channel if you would like to take advantage of the free content as this really helps my YouTube Channel and is greatly appreciated. Thank you!
Many Public Gigs Coming Soon
Many gigs are booked for this year, mainly with the Claire Barker And Paul Hill Duo, or with the Claire Barker Band. I also have more jazz gigs to be announced, so stay posted!
If you would like to come and see me at a gig, I have gig details on my public gigs page. Any private gigs are obviously not listed.
Hopefully See You At A Gig Soon
Hopefully, 2022 will be a great year for music of all types and we can say "goodbye" to the craziness of the past couple of years. One day, we will all look back on the covid pandemic and chat about it with others, whilst listening to great music with no restrictions.